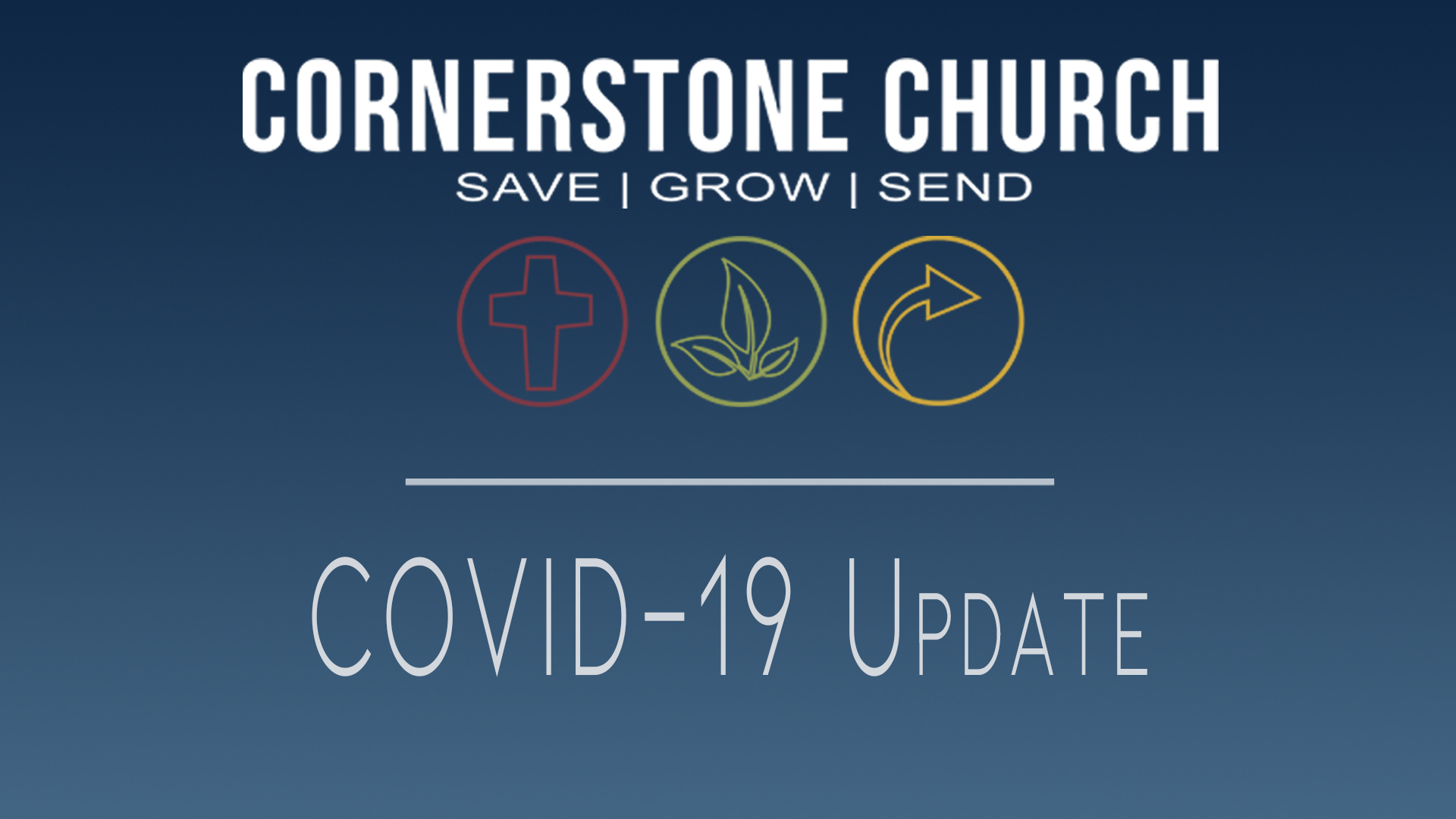 03-15-2020 Update
March 15, 2020
Two brief statements to guide our minds and hearts regarding COVID-19
Don't Fear the Future.
Psalm 34:4 4I sought the Lord, and he answered me and delivered me from all my fears.
God does not want you to live in fear. He wants to deliver you from all your fears. Don't fear the future, trust the good God who writes it, even when you don't understand the script.
Don't Ignore the Facts.
Here is one general overarching fact with which to face every situation.
John 16:33 33I have said these things to you, that in me you may have peace. In the world you will have tribulation. But take heart; I have overcome the world."
This world and troubles are close friends, they hang tightly together. To expect anything different is to disbelieve this explicit statement of Jesus. Those who walk this globe will walk through difficult times. As a believer do not be surprised and upset by difficulties. Trust the overcoming Lord.
Where to go and what to know for COVID-19
We are pointing people to two websites to stay current on COVID-19 and the impacts on our country and state.
The Center for Disease Control - https://www.cdc.gov/coronavirus/2019-ncov/index.html
The Alaska Department of Health and Social Services - http://dhss.alaska.gov/dph/Epi/id/Pages/COVID-19/default.aspx
A Few Facts Regarding COVID-19
The segment of society that is at a significantly higher risk of becoming seriously ill are older adults and individuals with serious chronic medical conditions, such as heart disease, diabetes, and lung disease. If you fit within those parameters, you need to take extra care and precautions to reduce your risk of contracting the disease.
An infected person can be free of symptoms for an extended period of time, and many of those infected experience only mild symptoms. These two facts contribute to the rapid spread of the disease due to it not being taken seriously.
You do not have to be around an infected person to get infected. It can survive for a number of days on a variety of surfaces. Therefore, cleaning and disinfecting high-traffic services is a best practice measure for prevention.
Early symptoms of COVID-19 symptoms (incomplete list)
Fever, cough, runny-nose, shortness of breath. If you are experiencing those promptly seek medical care.
Preventative Measures
Wash your hands frequently with soap and water for 20 seconds.
Avoid touching your eyes nose and mouth.
Avoid shaking hands and limit physical contact with others.
If you are sick, stay at home, except to seek medical care.
What is cornerstone church doing to mitigate the potential of spreading the corona virus?
We are evaluating the situation day by day keeping informed of recent developments.
We are practicing due diligence in the sanitation of this facility.
We have suspended some programming until we see what develops in the weeks to come including:
Our children's AWANA program
Mid-week youth programs and youth winter camp
Our women's conference.
We will keep you informed of any additional changes and keep up-to-date information on this page and our social media platforms. If we decide to cancel our Sunday morning services for a period of time you will find that decision promptly reflected on those platforms. We have also begun live streaming our services on Facebook for those who will not be able to attend.
We are praying for you and trusting in Jesus.
Pastor Brad Sutter and Elders of Cornerstone Church